5 min read
I can't do it anymore, I'm not good enough, this is too difficult."
Do you ever experience any of these thoughts, particularly when exams are just around the corner, or when you have not started an assessment that is due less than 24 hours away?
If you answered yes, then you could be headed towards burnout.
As a university student, you may feel constant pressure to do well and to work hard. In the midst of juggling study, work and social commitments it is not surprising that many students forget to take care of their physical health and mental wellbeing.
Around the country, many students are experiencing increasingly high baseline levels of daily stress and anxiety but are, perhaps, unable to identify the root cause.
It is therefore important to be able to recognise the early warning signs which may indicate that you, or someone you know, is suffering from a mental health imbalance.
Below is a quick checklist for some of the most common symptoms of deeper underlying issues.
Physical Signs Of Anxiety Or Stress
Some common physical signs of anxiety or stress are:
Exhaustion
Feeling nervous
Insomnia, or sleeping too much
Loss of weight and appetite
Headaches
Neck tension
Stomach upset or nervous stomach
Withdrawing from friends and family
Prefering to stay at home
Emotional Signs Of Anxiety Or Stress
Some common emotional signs of anxiety or stress are:
Feelings of apprehension or dread
Difficulty concentrating
Feeling tense and jumpy
Expecting the worst
Feeling restless
Feeling miserable/irritable
Feeling overwhelmed
Frustration
Disappointment in yourself
If you have noticed recognisable changes to your general state of mind or to your physical wellbeing that lasts longer than a few days, it is vital that you take positive steps and do something about it.
If you are still unsure whether you are suffering from anxiety or stress, complete BeyondBlue's anxiety and depression checklist.
Five quick and positive steps you can take today to help with depressive thoughts, anxiety or stress can be found below.
1. Seek Help
Every university has a counselling centre or a wellbeing society.
Make good use of free resources that are available to you. Seeking help does mean that you are a failure or can't 'tough it out' on your own. It means that you are self-aware enough to recognise your limitations.
It's crucial to keep in mind that you are not the only one experiencing anxious thoughts. Sooner or later, life has a way of knocking every one of us down to the point where we feel like we cannot get up again. This is a normal and natural part of being a twenty-or thirty-something. The important thing is that you do get up.
Understand that others, such as friends of family may, through their own life experiences, be in a better position to give you strategies to cope. Our personal experiences don't always equip us to deal with particular types of stress, so speaking with someone who has been through something similar can help you to get back on the right track quicker and easier.
You may also meet someone going through a similarly stressful time who can relate to your experiences and offer support and friendship.
If you feel uncomfortable talking with a counsellor or other professional, Lifeline and Beyondblue provide 24 hour anonymous support either over the phone or online chat.
2. Take a Break
Remember that you're only human.
Our bodies need rest to perform at their best. Nobody can work or study non-stop and expect terrific results every time.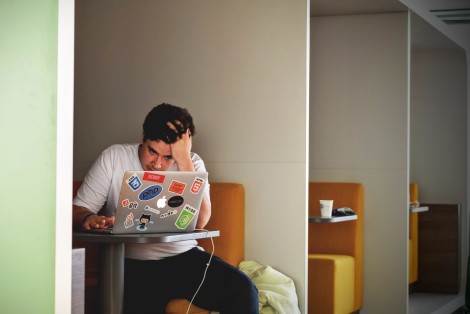 Taking a break gives your brain time to recalibrate. It refreshes your thinking and helps you to see your situation with a fresh eyes and a fresh perspective.
3. Sleep!
Get plenty of sleep (at least 7 hours per night) and cut down your afternoon intake of caffeine.
Try to switch to decaf or herbal tea from 2pm. Many students get into the habit of leaving assessment or study until the last minute and pull an 'all nighter' to finish. Chronic sleep deprivation can, however, seriously damage your mental and physical health as well as diminish the quality of your work.
And why risk a bad mark, or compromise your mental health, with something that is as easily manageable as getting enough sleep?
If you can muster the willpower, avoid blue light from electronic devices like phones, tablets and laptops a few hours before bed. Experiment with apps like Sleep Cycle which help track your sleep patterns and monitor the quality of your sleep.
4. Try Yoga Or Meditation
Yoga and meditation are great ways to reconnect the mind and body, particularly if you are experiencing symptoms of anxiety, depression, stress or fatigue.
Spending 15-20 minutes doing yoga or going for a quick walk or run during a study break can drastically lower stress levels, get your blood flowing, refocus your mind and improve concentration. Daily Yoga is a fantastic free app with over 500 yoga poses and instructions.
It's great for study life and also life in general. Develop strength and flexibility and get into fantastic shape!
For a quick mental holiday, get into the habit of using apps like Stop Breathe Think, Smiling Mind, Simple Habit or Zen. You can check-in with how you're feeling at any given moment and try short activities tuned into your emotions. Just 10 minutes of guided meditations per day has been proven to significantly reduce stress levels by proactively managing the way you deal with negative or overwhelming thoughts and feelings.
One practical strategy to minimise the impact of anxious thoughts is to put those thoughts on paper.
Set aside 15 minutes every night before bed to write down whatever is bothering you. It could be an upcoming exam, an overwhelming study schedule or general life pressure.
Seeing your fears or worries written down removes their power and unburdens your mind from its need to hold onto them.
5. Eat Healthy
Midnight Maccas runs and dinners consisting of instant noodles always seem like a good idea at the time. But a few seconds of instant gratification with cheap junk food can mean that you are jeopardising your physical and mental health.
According to Dr Hyun Shin from the Harvard School of Public Health:
Although instant noodles are a convenient and delicious food, there could be an increased risk for metabolic syndrome given the food's high sodium, unhealthy saturated fat and glycemic loads".
High sodium foods have also been linked with heart disease and other serious health problems.
Not feeding your body the nutrients it needs to succeed is like pouring sand into an engine and expecting it to perform well. Recent studies indicate just how important healthy gut bacteria is for our overall health, including mood and mental health.
To effectively manage stress during exam period, it's critical to spend the extra time preparing meals for the week and feeding your body the right fuel to succeed. Think tuna, rye bread, quinoa, green leafy vegetables, blueberries, and other superfoods that will boost your energy, focus and happiness and reduce stress.
If you are stuck for recipe ideas, the Women's Weekly Super Foods for Exam Success book is a great place to start. HelloFresh delivers healthy ingredients straight to your door, and Youfoodz even prepares and delivers fresh meals, so all you need to do is factor in time to sit down and eat properly.
Conclusion
The next time you experience stress or anxious feelings that you cannot seem to switch off, try some of the above strategies as a first step.
Keep in mind that stress and worry are our brain's way of working through problems – real or perceived. The more you worry about something, the more value your brain assigns that worry as a big problem that needs to be solved.
If you really want to stop worrying about something, you have to deal with it head-on.
Either write down what is troubling you; adopt healthy incremental lifestyle changes, such as eating healthfully, exercising regularly and getting enough sleep; talk about your problems with friends (who are likely to be feeling the same way as you) or seek professional help from a university counsellor or anonymous national helpline.
University is one of the best times of your life, so remember to keep things in perspective and proactively care for yourself and your friends. When it comes to the pressures of student life, try not to assign too much value or stress on getting perfect grades, performing perfectly or acing assessments.
Things are never as bad as they may seem at the time and, importantly, this stressful period in your life is only temporary.
Further Information
What strategies do you use to cope with stress or anxious thoughts? Let us know in the comments below!