1 min read
The Prime Minister has announced that Australia has entered single-digit levels of COVID-19 infection growth and that the country can now move into a "new phase" of virus suppression.
"Had the virus kept growing at the same rate it was 12 days ago, we would now have more than 10,500 cases in this country," he said.
As of last Friday afternoon, Australia recorded 5315 cases.
"That is a tribute to the work that has been done by Australians in getting around and supporting the very sensible measures that have been put in place all around the country," he said.
"Early modelling shows if we keep doing the work and upgrade our [intensive care] capacity then right now that trajectory is promising," he said. "But there are no guarantees, this virus writes its own rules."
We're doing well but we can, and must, do better
We only have to look at what is happening overseas to see how well Australia is doing by comparison.
The Royal College of Pathologists of Australasia has credited Australia with having the highest rate of diagnostic pathology testing for COVID-19 in the world, and data suggests that 90% of Australians are staying home and complying with the government's strict social restrictions.
As a result, we have seen a significant reduction in our rates of community transmission and lower overall infection.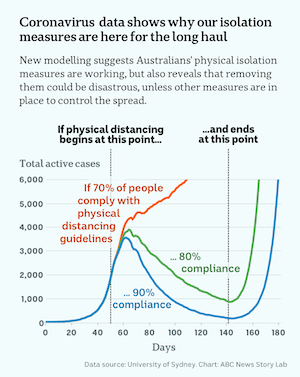 The preliminary model above shows that if 70% of people comply with social isolation measures, the number of cases will continue to rise at a breakneck pace.
According to University of Sydney researcher, Mikhail Prokopenko, early data is suggestive that if we maintain 90% compliance, we should now be experiencing a peak in the number of COVID-19 infections in Australia.
We want to be the first country in the world to voluntarily #FlattenTheCurve and #StopTheSpread through widespread community cooperation. The sooner we do, the sooner we can get back to some semblance of our normal lifestyles.
So, how do we need to keep the momentum going?
Well, we're throwing down the
#COVID19Challenge
Yes, the Olympics are cancelled, but the Australian sporting and competitive spirit is still alive and well.
So we are challenging all states and territories to see who can reduce their numbers of new cases the fastest by staying at home, especially over the Easter long weekend.
Here's how to play from home
The rules are simple:
Stay at home!
Wash your hands more than you think you need to.
Comply with government directions to self-isolate.
If you must go out for essentials, maintain a social distance of at least 1.5 metres and don't cough, sneeze or breathe on anyone.
Challenge your family and friends living interstate by tagging @bucketorange and the #COVID19Challenge.
Follow BucketOrange Magazine on Facebook, Instagram, and Twitter. Each week we'll publish updated leaderboard statistics.
This is within our power to solve
None of us want to live like this for 6 months or more, so let's show the world how it's done by voluntarily staying at home.
The best way to fight for our lives and our livelihoods is to robustly accept and comply with government directions and to stay away from others.
The sooner we do, the sooner we can all get out of this alive.