5 min read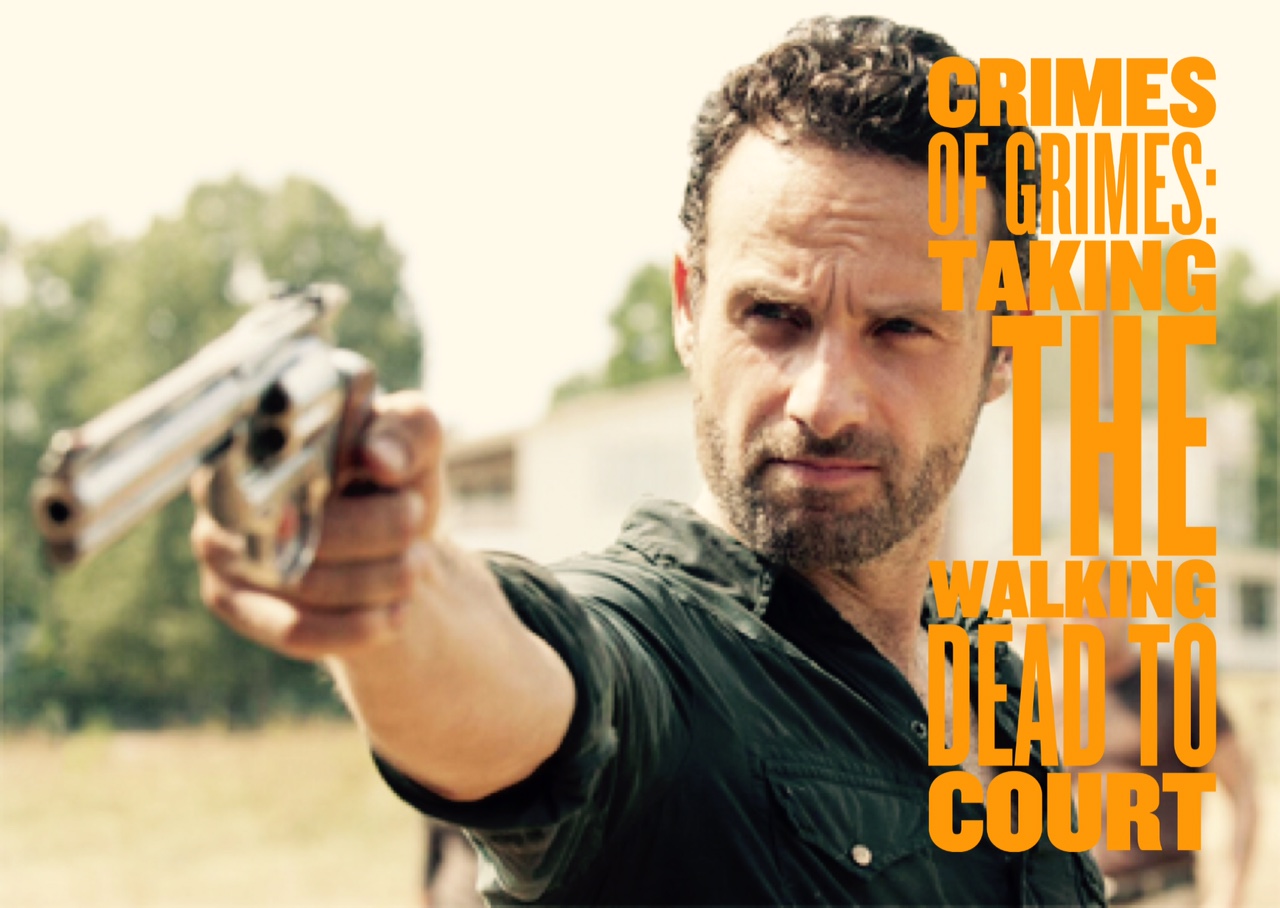 I
t's tough being a lone sheriff in town.
Rick Grimes from popular TV series, The Walking Dead, can attest.
When it comes to the total dissolution of society in a hypothetical zombie apocalypse, the complete breakdown of law and order is inevitable.
Characters must often resort to extreme measures to survive. Behaviour that once struck at the common morality, by causing harm to others or rousing feelings of indignation and revulsion in ordinary people, can not only become commonplace but also critical for survival. Looting, trespassing, vandalism, theft, assault, murder and cannibalism are just a few examples carried out with daily indifference by survivors of a zombie apocalypse.
But what if that all changed.
What if, by virtue of a cure, humanity returned to normal? Would survivors revert to an ordinary existence? And would society hold them to account, demanding punishment for crimes committed during a catastrophic global event which 'paused' the rule of law?
If we place Rick Grimes in the dock, what crimes could he be charged with in an Australian court today?
Elements Of A Crime
Most crimes have two elements. 1) Actus reus, the physical action of committing a crime, and 2) mens rea (apart from strict liability offences), the state of mind of a person committing an offence.
Conduct – actus reus
The action must have been performed voluntarily. This requirement comes from the principle of individual autonomy – people must be criminally responsible for their actions provided they have sufficient choice or control over them.
A crime is committed involuntarily, for example, when it occurs during sleep walking, a concussion, an epileptic fit, insane automatism or being physically overpowered by another person.
2. Subjective mental element – mens rea
The mens rea may include a number of mental elements including:
Intention – A person intends a consequence if it is his or her purpose to achieve that result.
Recklessness – Defined as foresight of a risk that a consequence might occur, or that a circumstance exists, and proceeding to act in a way that brings about that risk. Any significant degree of risk (other than virtual certainty, which is covered by intention) will normally be sufficient for recklessness.
Knowledge – Defined as awareness that a specified circumstance exists or that a consequence will ensue. For example, a person has knowledge of a circumstance, or a result, when they are aware that it exists or will exist in the ordinary course of events.
Rick Grimes & His Murdersome Times
How many times has Rick Grimes killed people outright to save his group? For long-standing fans of the show, it is getting harder and harder to keep track.
To successfully bring a charge of murder against Rick under the NSW Crimes Act 1900, it would need to be established beyond a reasonable doubt that Rick voluntarily engaged in an action (or omission) that caused death and had the requisite mental element of either killing or inflicting grievous bodily harm or was recklessly indifferent to human life.
At the time Rick committed the deliberate action of killing, it would need to be proven beyond a reasonable doubt that he intended to kill that person.
Just because someone may intend to inflict grievous bodily harm, as opposed to intending to kill, for example, does not excuse him or her from liability for a murder conviction if the person dies.
Reckless indifference to human life.
Reckless indifference to human life means performing an act with foresight of the probability of death arising from that act and going ahead with it anyway. If death does result from this action then the person is guilty of murder.
The behaviour of someone who continues with a course of action, knowing that it is likely to cause death, but carries on with it anyway is considered by criminal law to be equally as blameworthy as someone who engages in an activity with the specific intention of causing death.
The maximum penalty for murder is life imprisonment.
Likely finding by a court?
Ricky Grimes & Manslaughter
Let's give Rick the benefit of the doubt for this one.
Maybe he really didn't mean to choke this guy to death in the bathroom. Maybe he just wanted to keep him quiet so that his friends could escape.
Manslaughter can be either voluntary or involuntary or through criminal negligence.
In Rick's case, we are only really interested in voluntary manslaughter. Voluntary manslaughter requires the elements of murder to be present. However, responsibility is reduced where provocation exists or where there is substantial impairment or abnormality of mind.
Another form of voluntary manslaughter is manslaughter by excessive self-defence. This happens where the elements of murder are satisfied, but a reasonable person in the same position would have thought that it was necessary in the circumstances to use lethal force.
It would be up to a court to determine whether Rick acted reasonably in these circumstances and whether a reasonable person would also have considered it necessary to cause death.
But the likely finding by a court?
You've Got Faults? Get Ready For Grimes' Assault
Rick is no stranger to beating people to a pulp.
Among other offences, Rick could be charged with assault occasioning actual bodily harm. The injuries caused do not need to be permanent but must require serious physical injury and wounding.
Intent to cause actual bodily harm is not required for this offence. Rick must have intentionally or recklessly assaulted the victim and actual bodily harm must have resulted. When determining the appropriate sentence for an offence, the court looks at aggravating factors, mitigating factors and any other factors that influence the seriousness of the offence.
An aggravating factor here may be is that Rick committed this offence in the company of others, if convicted he is liable to imprisonment for 7 years.
However, a significant mitigating factor is where the victim provoked the attack.
It is of the essence of provocation that the acts of others cause offenders to lose their self control and embark upon criminal conduct often of the utmost gravity". R v Ferguson [1999] NSWCCA 214 at [29].
It would be up to the court to determine an appropriate punishment taking into account the seriousness of the offence, aggravating and mitigating factors and Rick's history of violence.
Likely finding by a court? You guessed it!
Talk $h*t, Get Bit
Was Rick in a sound frame of mind when he unceremoniously ended an attacker with his bare teeth to save his son from an unexpected group attack?
The mental state required in the offence of wounding with intent to cause grievous bodily harm is a relevant factor, especially if there is a degree of cognitive disturbance and an absence of premeditation.
Although wounding has not been defined under the Crimes Act 1900 it is generally considered under common law to involve the breaking of the skin. Wounding does not require the use of a weapon – as Rick clearly demonstrates by using his teeth.
To be guilty of this offence, Rick must have wounded someone and caused grievous bodily harm with the intent to cause that grievous bodily harm. The extent and nature of injuries, as well as the degree of violence and ferocity of the attack, will be taken into account in sentencing.
The maximum penalty is 25 years imprisonment.
Likely finding by a court? Say it with us!
Ricky, Rick & His Baby Chick
Rick spends a lot of time letting his baby roll around on the backseat of a car, feeding her ground acorns and leaving her alone with strangers.
Under the Crimes Act 1900, this is referred to as a failure to provide the necessities of life.
A person who is under a legal duty to provide another person with the necessities of life and without reasonable excuse, intentionally or recklessly, fails to do so is guilty of an offence where the failure causes death or serious injury, or the likelihood of serious injury, to that person.
The maximum penalty is 5 years imprisonment.
Sheriff Grimes & His Zombie Thumping Crimes
In a zombie apocalypse, either you mess with the dead or they mess with you.
Unfortunately for Rick, it is an offence in NSW to participate in any misconduct in relation to corpses.
This means that any person who improperly interferes with, or offers any indignity to, any dead human body or human remains (whether buried or not) commits an offence.
Punishment is 2 years imprisonment.
Likely finding by a court? Let's hear it!
What Factors May Mitigate Rick's Criminal Convictions?
His face.
Several studies have indicated that, attractive defendants are treated more compassionately and experience more lenient sentences (or are acquitted altogether) in contrast to less attractive persons accused of the same offence.
Terminus
In a post-apocalyptic world, Rick really runs the gauntlet of deviant behaviour. These are just some examples of offences that Rick could be charged with in NSW. In the next instalment of the Crimes Of Grimes we will look into what legal defences and arguments may be available to him, as well as which civil laws our tricky Ricky may have infringed.
To have the latest news from Rick's Big Day In Court delivered straight to your inbox, subscribe to our newsletter!
*this article is based on the NSW Crimes Act 1900.