6 min read
S
ocial media stalking – we are all guilty of it, and some of us indulge ourselves a little more frequently than we care to admit. Come on, you know that you have looked at your ex's Facebook profile at least three times this week, just to confirm that their life is hellish and miserable without you.
Of course, it is human nature to be curious. While technology allows us to satisfy inquiring minds, it has also opened up our lives in ways that we couldn't imagine a decade ago. People can contact us even when we don't want to be contacted.
Even corporations do it! It's now commonplace for employers to seek out information on applicants or employees through social media and use it to decide whether you are good fit for their company. Why wouldn't they? Your internet usage reveals much about who you are: your likes, dislikes, political leanings, religious views, sexual preferences, whether you have an active social life, the places you like to go, and even how frequently you enjoy a nice drop of red or a frothy ale.
Looking up social media profiles has become something of a societal norm – whether for social or professional screening purposes. But there is a difference between harmless curiosity and obsessive (potentially unlawful) cyber stalking. Unlike stalking in the physical sense, the rapid evolution of technology has given those with nefarious intentions the opportunity and luxury to monitor your every thought, feeling and movement from the comfort of their couch.
What protection do privacy settings offer?
In most cases, privacy settings are a great way to protect yourself.
Facebook lets you to tailor your audience for each update, to decide which pictures you want to share with your friends and which ones you want to share publicly. You can also block someone from seeing or searching for your profile entirely.
The thing is, most of our internet usage is not restricted to one social media platform so limited privacy settings can only go so far. Every time you use any form of online technology you leave a trail of digital breadcrumbs. It doesn't take much for someone to collect these crumbs and piece together a complete picture of your most personal and identifiable information.
Social media is a cyber stalker's dream
If we dig a little deeper, it's almost as though certain Facebook features have been created specifically to facilitate and encourage undetected observation by others.
1. Getting notifications every time you do something
Facebook's 'close friends' function is a perfect example. Others can add you as a 'close friend' which means they are notified the minute that you like or comment on a photo, update your status or check in somewhere. The scary part is that there is no way to know who has added you to their 'close friends' list and, therefore, who receives real-time notifications about where you are or what you are doing.
2. Viewing every photo you have ever liked (even if you are not friends)
Another feature sure to be over utilised by stalking aficionados is Facebook 'search.' Regardless of whether or not you are Facebook friends, it is possible to search for and gain access to the history of all photos someone has liked or commented on simply by typing the following into the search bar:
photos liked by [insert name]; or
photos commented on by [insert name]; or
pages liked by [insert name].
3. Stalking your friends and networks
Even if someone cannot view your profile page, they can go to the pages of your best friends (the nine people on your profile page that Facebook considers you are closest to).
Depending on your friend's privacy settings, anyone can learn more about you by viewing their photos or your posts on their page.
Are you are being cyberstalked?
Sometimes the signs can be subtle and easy to overlook. The key thing to remember is that it may not necessarily be somebody you know who is tracking your online activity – it could be a complete stranger who has become fixated with you.
Warning signs may include situations where:
Someone keeps track of when you are online. They may regularly initiate contact via Google Hangouts, Facebook chat or they may follow you around Reddit forums they did not participate in before you met them. If the same person seems to be turning up wherever you go online, it is likely that they know your schedule and it is not a mere coincidence.
You may receive emails or messages with increasing frequency. When you don't reply, the person might send another message that covers different topics.
Someone may persistently engage with every social media update you post, tag you in comments or other posts or direct their comments to you personally. You may feel singled out because that person always responds to what you have posted in a way that makes you feel uncomfortable.
Persistent online behaviour can quickly morph into a real world stalking scenario.
If someone you know is cyberstalking you, their behaviour may become obvious during face-to-face interactions. It may be that:
A particularly persistent work colleague reveals personal information about you during
a conversation – information that you did not tell them yourself. It could be something innocuous like what you did over the weekend, the names of your close friends or whether you are dating anyone. Pay attention to these types of warning signs as they could indicate this person has a deeper underlying fixation with you.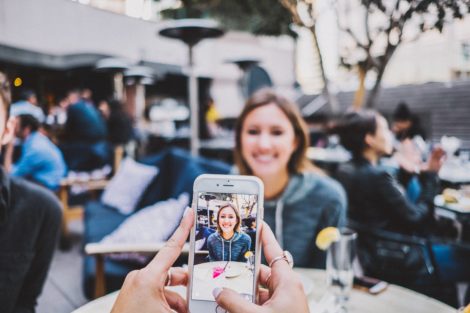 An acquaintance continually shows up at the same places as you. For example, while you are out at lunch or Friday night drinks with friends. This could be a coincidence but if it happens more than a few times, it could mean that they are using social media or other technology to learn where you will be and to follow you there.
The key to understanding unlawful cyberstalking is that the unwanted behaviour must be repeated.
The Australian Institute of Criminology defines cyberstalking as any persistent online behaviour that instils apprehension and fear.
This might include situations where:
You are harassed by abusive emails or instant messages
You are singled out and repeatedly tagged in posts or have comments directed at you
Someone impersonates you or spreads rumours about you that are untrue (for example, by hacking your social media or email accounts or sending abusive messages to your family or friends)
Someone threatens to share or actually shares intimate or embarrassing pictures or videos of you online
Someone repeatedly and persistently contacts you across various social media or other online platforms
If the someone's online behaviour makes you feel scared or intimidated then you are being cyberstalked.
What does the law say?
Under current Australian law, stalking (including cyberstalking), is a serious offence in all states and territories and carries a maximum penalty is 5 years in jail or a fine of $5000.
Each jurisdiction treats stalking in their criminal legislation differently, but essentially you are being stalked when you receive repeated attention that intimidates or frightens you. In some states and territories, it can still be considered an offence even where you are not actually intimidated or frightened by the stalking behaviour.
In NSW, under the Crimes (Domestic and Personal Violence) Act 2007, it is a crime for someone who you are (or were) in a relationship with to stalk or intimidate you with the intention of causing you to fear physical or mental harm. If the police decide to prosecute, it is not necessary to prove that you actually feared physical or mental harm.
Stalking can include someone making numerous unwanted phone calls, sending you threatening or abusive text messages or emails, contacting you through the internet, social media, computers and surveillance devices with the intention of causing you mental or physical harm.
Commonwealth legislation criminalises cyber-harassment but does not provide for a general offence of harassment. The Commonwealth Criminal Code makes it an offence to 'use a carriage service to menace, harass or cause offence' and to 'use a carriage service to make a threat'. This captures harassment through the internet, social media, and telephone. The maximum penalty is three years imprisonment or a fine of $19,800.
Time for legislative reform?
Use of technology-facilitated violence is a developing area of law.
The offence of cyberstalking currently falls within the existing offence of stalking in state and territory legislation and cyber-harassment provisions under the Commonwealth Criminal Code.
However, given the distinctive nature of cyberstalking and the highly damaging impact it can have on victims, as well as the ease in which technology allows perpetrators to harass and intimidate others with relative impunity, it is perhaps time for legislative reform.
Misuse of social media and technology is likely to see a steady increase in insidious cases of technology-facilitated stalking and violence. If left unchecked, this behaviour has the potential to flow on to other serious offences.
In the case of victims fleeing domestic violence, the ability of abusers to track the physical location of victims (and to act on that information) with ease, can and does result in serious and potentially life-threatening scenarios. It is only a matter of time before social media and other technology is exploited far more extensively.
To address the issue, urgent harmonisation of disparate state and territory stalking provisions, together with tougher penalties and more active enforcement is essential.
A uniform and stand-alone cyberstalking criminal offence may go some way towards the better regulation of intimidating, damaging and unwanted online activity.
What can you do if you are being cyberstalked?
Collect Evidence
As a first step, record or take screenshots of any abusive, harassing or intimidating material that is directed at you. This allows you to verify your claims if it gets to the point where you need to make a complaint to the police and for them to commence an investigation.
Block
If you are being harassed on social media one of your first steps should be to block the person from all of your social media accounts.
Report
If you are being stalked, harassed or bullied through social media you can utilise the social media carrier's 'reporting' function. Most carriers have a feature for reporting abusive or harassing behaviour. You can also report it to the Australian Cybercrime Online Reporting Network (ACORN).
If there is found to have been an infringement of any state or federal law, ACORN refers your matter to the relevant law enforcement agency.
Make a complaint to the police
If you have genuine fears for your safety, you should report it to the police as soon as possible. Being able to provide the police with a timeline of events and evidence such as screenshots will ensure that your complaint is taken seriously.
Make sure you have a timeline of events, and evidence such as screenshots. This will ensure that your complaint is taken seriously.
Prevention
Constantly shifting social media landscapes mean that, in many ways, it is inevitable that your personal and business information will be more accessible to the world at large.
You can, however, start to practise greater awareness of others' online behaviour and your own. If someone's interactions with you seem strange or repetitive, don't assume it is harmless because it happened online. Just because something starts online, does not mean it will end there.
While some legislative protections and deterrents are in place, the only real way to protect yourself is to exercise constant vigilance and to be mindful of the information you choose to share.
Further Information
If you or someone you know has been a victim of cyberstalking contact:
Australian Cybercrime Online Reporting Network (ACORN) to make a report.
If it is in breach of Australian law, your incident will be referred to the relevant government agencies or law enforcement for further investigation.
Local police assistance line: 131444
National Counselling Helpline: 1800 737 732 (for assistance and practical strategies on how to cope with the ongoing effects of online harassment).
Legal Resources:
Download the Smartsafe app to record evidence of family violence safely:
Have you, or someone you know, been a victim of cyberstalking? What was your experience and how did you go about handling it? Let us know in the comments!