1 min read
"Say no more [mon amour], lips are for kissing, baby, je t'adore … UMWAH!"
Three days ago, April 8, marked a day that will live on in the hearts and minds of Empire Records fanatics the world over.
A day in 1995 where kids rocked out to AC/DC at work:
When everybody said the first thing that came into their head:
A time when it was still okay to tell someone they had terrible taste in music:
When Renee Zellweger danced in an apron, putting the colour o-range firmly on the map:
A period when crashing live newscasts to stop treasured record stores from closing was advocated:
When bringing Rex his lunch was the ultimate teen dream:
And, most importantly, when Rex Manning rocked a pirate shirt while sashaying his hips in a way that made smart girls stupid:
That's right, it was Rex Manning Day!
But today, April 11, marks an equally important date in history.
A day that it took until 2017 to officially recognise as
INTERNATIONAL BE KIND TO LAWYERS DAY!
By all accounts, it's a day meant to recognise all the lovely clever things your lawyer does for you. Whether it's your partner, sibling, parent, friend, co-worker, boss or hired lawyer, consider holding off on the lawyer jokes for 24 hours and telling them something nice that puffs their ego. It's an easy way to get involved and, for once, it costs you nothing!
NB: Suggest complimenting their brilliant legal mind.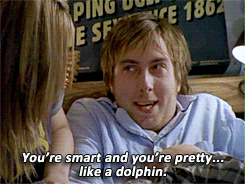 However you choose to celebrate that special law student or lawyer in your life, at the very least show them some love by shouting them a gin & tonic tonight.
It's only Tuesday, but Lord knows it's already been a long week.
How are you planning to celebrate International Be Kind To Lawyers Day? Let us know in the comments!