2 min read
Right. Well. Here we are.
World events over the last few months have left most of us feeling like a pancake that's unceremoniously been flung across the room.
Since the coronavirus outbreak in November last year, our collective situation has not been well-situated (and by that, I mean that things have deteriorated fast). It's been a cataclysmic chain reaction that has brought the globe to a grinding halt. Cities have gone into lockdown, thousands of people are dying or seriously ill, first-world health care systems are collapsing, a global recession is imminent, and small businesses – the tourism, hospitality, beauty, music and dental industries, in particular – are being hit hard.
On Thursday, Qantas announced that it is suspending all international flights until late May 2020. (You know things are bad when travel and sports are cancelled). And all this because some selfish little sod in Wuhan, China decided to lick a pangolin.
Overnight, the world has become a society of neurotic germaphobe shut-ins, where the mere thought of touching a door handle or elevator button now causes most of us to slip into a gentle seizure.
(See lead image)
So, if the end is nigh, what can, and should, we be doing to while away the countless hours of isolation stretching ahead of us?
1. Make a will
Ha, ha. Funny.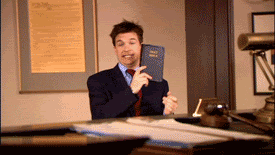 But seriously. Now is the time to stop procrastinating and to get it done. Making a will is the only way to ensure you decide what happens to your property and assets after you die. Otherwise, your money could end up being bequeathed to someone you never intended should get their hot little hands on it.
(Like that record player your irritating sister, Tracy, has been eyeballing for years … "Shut up, Tracy!")
2. Make your brain werk for it
Netflix Party will only go so far.
Many Ivy League Universities and Australian educational institutions, such FutureLearn, have hundreds of free courses online. The ANU College of Law's Juris Doctor degree is entirely online, as are many courses through Open Universities.
So … rather than spending your free time "panic googling" your symptoms, (or whether you can catch a virus through the walls of your house if your neighbour sneezes in their backyard) try to develop some skills that you can apply in your career or business once you're free to gleek on other humans again.
3. Stay well-hydrated
When everything is uncertain, one this is certain.
Your long-time relationship with good friends gin, vodka, and whiskey. And if we've learned anything from China's post-quarantine spate of divorces it's that living in close quarters with family, especially young children, can be a traumatic experience.
Enter the humble quarantini and online cocktail making courses! Designated driving is a moot point when your bed is a mere 3 feet from the kitchen.
4. FaceTime your extroverted friends who are "social distancing"
If you are an extrovert, being isolated in the sensory deprivation tank of your house can feel like your psyche is slowly folding like a road map.
Most are looking to find a meaningful connection anywhere.
It's a slippery slope from having long and involved powwows with pets over the morning news to justifying the need to stick googly eyes on appliances, milk bottles, and wall sockets, just so that the house seems more crowded and friendly.
Spare a moment and give them a call (not a text!). They need you right now.
5. Check your health insurance
While you may not need it, you shouldn't risk it.
Is your policy up to date? Do you have ambulance and hospital cover? In the case that you do need to be hospitalised for an extended period of time, you don't want your resulting medical bill to sting more than the harsh light of day once you leave confinement.
6. Continue to support small businesses
Right now, small businesses in Australia are arguably suffering most from the coronavirus crisis.
Many are now facing impossible decisions about laying off staff, innovating to ensure their survival, living without an income for up to 6 months or even making the decision to close entirely.
Support your friends who are running businesses. Contact them regularly. Offer any assistance you can. If you're a lawyer, volunteer free legal advice on issues they are unexpectedly facing, like how to go about negotiating a reduction or suspension in lease repayments with landlords.
If you are feeling well, continue to see your local hairdresser and dentist. Most small businesses have developed coronavirus policies and procedures that include strengthened hygiene measures in an effort to ensure the safety of staff, clients, and patients.
Most importantly
(at least for the next few months)
More on BucketOrange Magazine